Here at Liam Sinar, Dry Stone Walling Services (DSWS), we are focused on providing dry stone walling services for domestic and commercial customers.  We aim to provide good quality dry stone walling with both old or new stone, or a mix of the two. We will do everything we can to meet your requirements.
We offer a variety of services from repairing existing walls to building completely new ones.  Curved walls to steps.  Retaining walls to high walls.  Ornamental walls to farm walls.  Garden walls to more complex feature walls.
Garden walling can be combined with fencing, paving or decking for your complete garden make-overs.  We can also lay stone flags and setts.
Look at the photographs on here of a selection of walls and gardens we have worked on recently and over the past few years.
Our Facebook page will also show you recent customer comments regarding our work.
We offer a complete service, from digging out, to tree pruning, to rubble/stone removal.
In addition, we can offer a mini digger hire service, man and machine,  for any of your ground work requirements.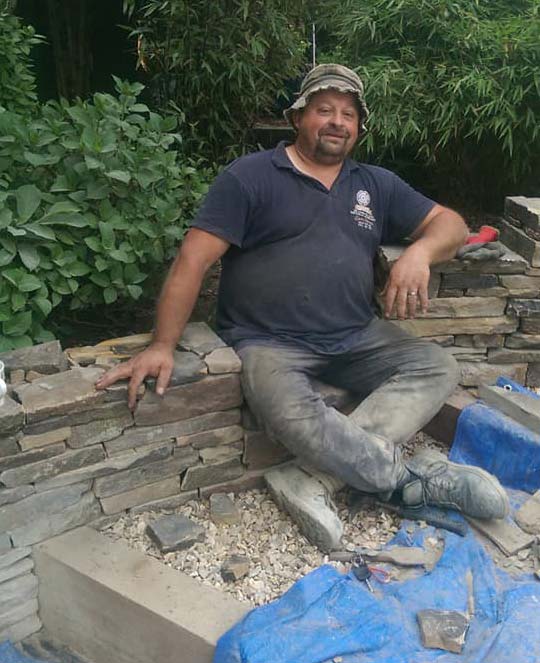 I have been dry stone walling for over 30 years.  I was brought up on a small farm in Upper Cumberworth and learnt my craft over a number of years progressing from gaps and repairs to longer stretches.
In recent years I have turned my hobby into a business, working   in the Yorkshire area.
I am hard working, conscientious, and like to 'do a good job'.
I have a team of good people who work with me when I need them, all of which are very skilled.  Not least, my wife Melanie, who keeps my paperwork in check!
We Buy & Sell Stone
We are always on the lookout for quality stone to purchase for use in our work.
Along with buying stone we also have stock to sell from time to time.
Why not contact us to find out more!